Par ADRIENNE LAFRANCE, The Atlantic

The artist Sarah Walker once told me that becoming a mother is like discovering the existence of a strange new room in the house where you already live. I always liked Walker's description because it's more precise than the shorthand most people use for life with a newborn: Everything changes.

Because a lot of things do change, of course, but for new mothers, some of the starkest differences are also the most intimate ones—the emotional changes. Which, it turns out, are also largely neurological.

Even before a woman gives birth, pregnancy tinkers with the very structure of her brain, several neurologists told me. After centuries of observing behavioral changes in new mothers, scientists are only recently beginning to definitively link the way a woman acts with what's happening in her prefrontal cortex, midbrain, parietal lobes, and elsewhere. Gray matter becomes more concentrated. Activity increases in regions that control empathy, anxiety, and social interaction. On the most basic level, these changes, prompted by a flood of hormones during pregnancy and in the postpartum period, help attract a new mother to her baby. In other words, those maternal feelings of overwhelming love, fierce protectiveness, and constant worry begin with reactions in the brain.
Mapping the maternal brain is also, many scientists believe, the key to understanding why so many new mothers experience serious anxiety and depression. An estimated one in six women suffers from postpartum depression, and many more develop behaviors like compulsively washing hands and obsessively checking whether the baby is breathing. »This is what we call an aspect of almost the obsessive compulsive behaviors during the very first few months after the baby's arrival, » maternal brain researcher Pilyoung Kim told me. « Mothers actually report very high levels of patterns of thinking about things that they cannot control. They're constantly thinking about baby. Is baby healthy? Sick? Full? »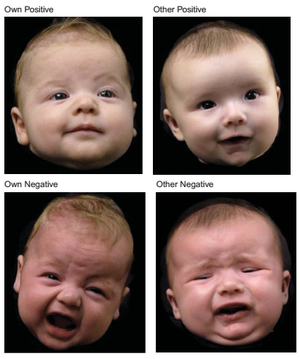 « In new moms, there are changes in many of the brain areas, » Kim continued. « Growth in brain regions involved in emotion regulation, empathy-related regions, but also what we call maternal motivation—and I think this region could be largely related to obsessive-compulsive behaviors. In animals and humans during the postpartum period, there's an enormous desire to take care of their own child. »
There are several interconnected brain regions that help drive mothering behaviors and mood.